Roam Stick 6000 – Not only a trekking pole and a Nordic pole, but also a good assistive equipment for workout.
According to the research, walking 6000 steps a day on average is said to bring benefits to people's health. This is how Roam Stick-6000 is designed for. We'd like this walking pole being the best accompany for individual's daily walking or exercise. Not only having functions of assisting in working out but also can be used in hiking and walking as extra bonuses.
It's suitable for people who are aged over 45 years old and does workout frequently to keep their physical wellness. For the people who are over 65 years old, we'd like to encourage them to walk 6000 steps a day with Roam Stick 6000 to maintain their physical condition.
Features
ULTRA-LIGHTWEIGHT: Made from durable aluminum, this walking stick weighs only 365 g.

EASY PORTABILITY: Featuring a quick folding and unfolding design, it can be easily stored or carrying. 

GREAT SUPPORT: The push button mechanism can bear more push down strength. While other walking sticks with spinning nobs could possibly go loose with serious use.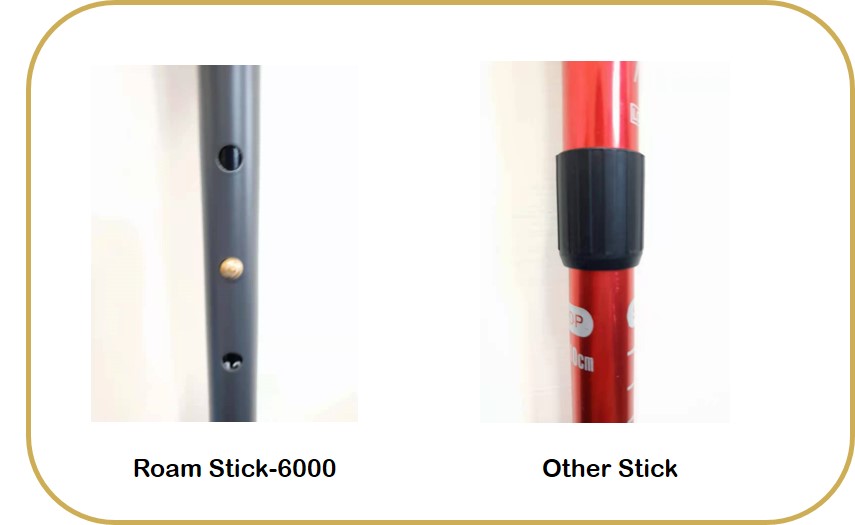 STRONG STABILITY: The walking pole is twice thicker than other general walking sticks, making it sturdy and strong; not easy to crack or break to ensure your safety while in use.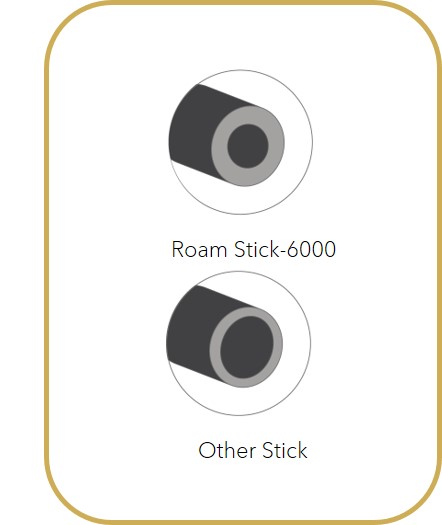 SIMPLE WORKOUT: With its tough and thick body, this walking cane successfully bears high pressure, supporting your body weight from getting up and even doing simple workout, for instance, doing squat or lunge.

GETTING UP: Due to the anti slip rubber tip, the walking stick can be served as a support to assist you get up from chair, sofa, or bed.
EASY FIT: The suitable heights from 118-183 cm, the walking pole is the one of the compact workout stick for family doing exercise and enjoy a great time gathering to get healthy.
UNIQUE BUILT-IN MEASUREMENT SYSTEM: Our Roam Stick 6000 has its exclusive measurement system for quick adjustment to the user's height.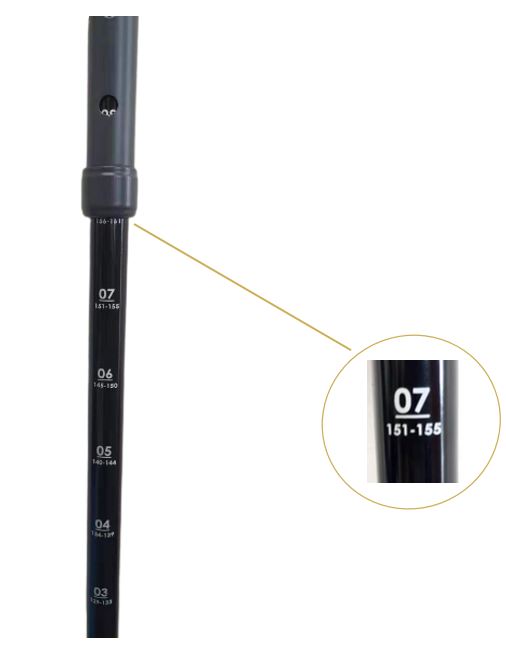 Specifications
Product
Roam Stick 6000
Material
Aluminum Alloy
Material of grip
EVA
Material of tip
Rubber
Adjustable height
805 – 1288mm (12 levels)
Suggest user's height
118-183cm
Product weight
365g
Weight Capacity
100kg
Packaging dimension
Inner Box: 1PC

6.5x5x86cm

Outer Box: 10PCS/CTN

28x15x88.5cm