Stair Assist Cane – A Stair Aid to Assist the Seniors Remain Stable and Safe while Going Upstairs and Downstairs
Stair Assistive Senior Walking Cane is designed with strong stability, adjustable height, and comfortable dual hand grips. Perfect solution for seniors to lower the risk of falling down from the stairs. Contact us if you are tempting! Stair Assistive Senior Walking Cane is a unique design for stairs. Falling down from stairs is always a big issue especially for seniors due to its serious consequence. It is a great solution for seniors to lower the risk of falling downstairs. It not only provides great stability but also encourages the seniors to walk at the same time.
Features
UNIQUE DESIGN: It's specially designed for use on steps and easy to use.
STANDING ALONE: The cane can stand on the steps (in house) ready for the usage for ascending or descending the steps.
REDUCING PAINS: It helps reduce pain to joints (hips, knees) from impact when descending the steps.

HEIGHT ADJUSTABLE: 12 push button selections for adjusting to accommodate different user's height and steps height

push button mechanism

COMFORTABLE DOUBLE HAND GRIPS: Featuring dual foam hand grips design, it's comfortable in use and adaptive for upstairs and downstairs.

dual hand grips

STRONG STABILITY: 4 pronged base design makes the entire cane more stable and secure. And it stands stably on two staircases to provide a good base for users to press down.

LIGHTWEIGHT MATERIAL: Made of Aluminum, it's light and easy to use but also provide strong stability
ATTRACTIVE DESIGN: Its black finish makes the cane an attractive looking and fits perfectly into the home environment.
User situation
Specifications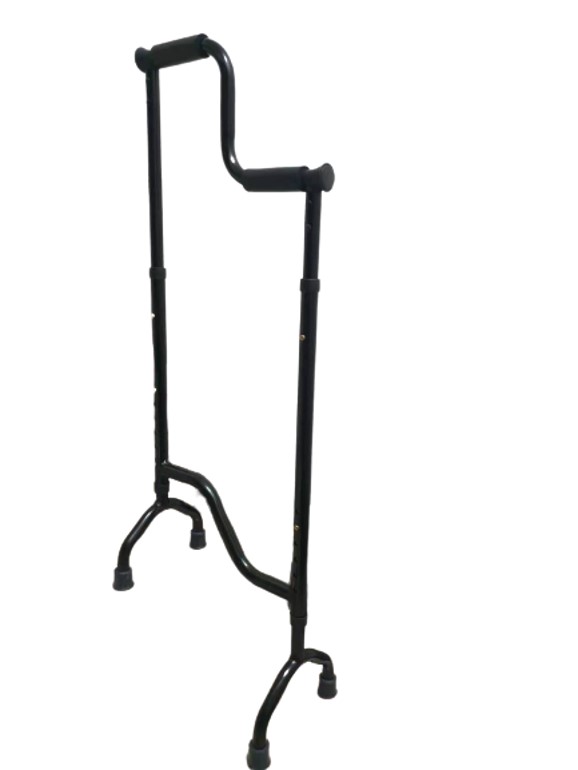 | | |
| --- | --- |
| Product | Stair Assist Cane |
| Material | Aluminum Alloy |
| Material of grip | EVA |
| Overall dimensions | D350 x W220x H1070-1120mm |
| Suggest user's height | 158 – 187 cm |
| Product weight | 1.1kg |
| Weight capacity | 136kg |